News
U-21: The victory over Germany propelled the Poles. Latvia defeated in Kraków
16 / 11 / 21 Author: PZPN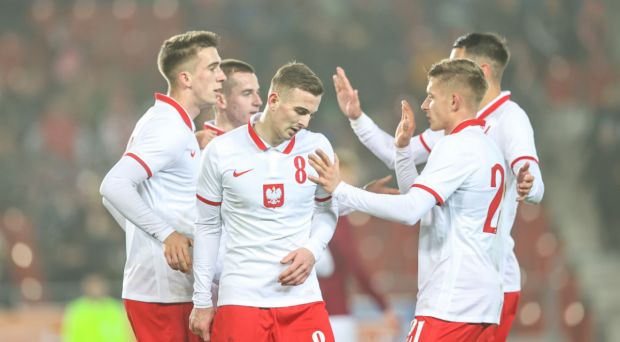 In the 2023 UEFA European Under-21 Championship qualification match, the Polish national team defeated Latvia 5-0. The goals for the team led by coach Maciej Stolarczyk were scored by Kacper Śpiewak (two goals), Adrian Benedyczak, Łukasz Bejger, and Kacper Kozłowski.
---
16 November 2021, Cracow
Poland – Latvia 5:0 (3:0)
Goals: Adrian Benedyczak 32 (karny), Łukasz Bejger 45, Kacper Śpiewak 45, 63, Kacper Kozłowski 51.
Poland: 1.Cezary Miszta – 5.Konrad Gruszkowski (58. 13.Mateusz Żukowski), 2.Łukasz Bejger, 14.Jakub Kiwior, 21.Michał Skóraś (72. 18.Maksymilian Sitek) – 6.Łukasz Poręba, 8.Kacper Kozłowski, 10.Mateusz Bogusz (58. 19.Piotr Starzyński) – 7.Jakub Kamiński (72. 11.Filip Marchwiński), 9.Adrian Benedyczak (43. 15.Kacper Śpiewak), 20.Nikola Zalewski.
Latvia: 12.Rudolfs Soloha – 8.Maksims Tonisevs, 4.Roberts Veips, 3.Normunds Uldrikis, 22.Arturs Lotcikovs (56. 19.Edgars Ivanovs), 6.Emils Birka – 10.Eduards Daskevics (74. 9.Niks Dusalijevs), 14.Rihards Ozolins (74. 17.Deniss Melniks), 5.Ilja Korotkovs, 2.Rudolfs Zengis (56. 7.Dmitrijs Zelenkovs) – 11.Kristers Lusins (56. 21.Kaspars Kokins).
Yellow cards: Skóraś, Kozłowski - Lotcikovs, Birka.
Referee: Robertas Valikonis (Lithuania).