News
Video: A stunning finish! Poland caught up with Finland
01 / 04 / 14 Author: PZPN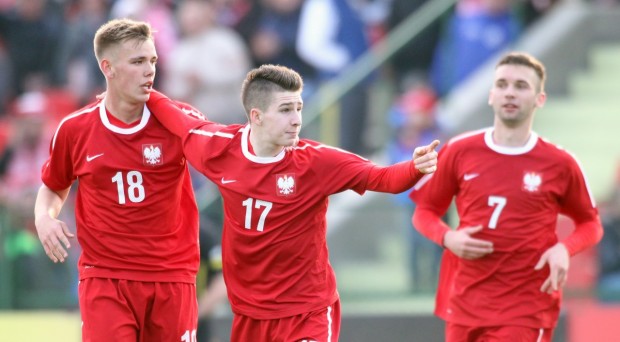 Polish National U-18 Team drew with Finland 3:3 in a friendly match that took place in Piotrków Trybunalski.
---
Poland – Finland 3:3 (0:1)
Goals: Robert Bartczak 36, Jakub Łukowski 78, Damian Garbacik 81 – Anselmi Nurmela 12, Elias Ahde 67, Richard Jensen 77 (p)
Poland: Mateusz Kuchta – Kamil Dankowski (79. Damian Ciechanowski), Wojciech Kochański, Jan Bednarek, Damian Garbacik – Paweł Stolarski (79. Mateusz Grzybek), Damian Rasak (46. Korneliusz Sochań), Chris Jastrzembski (60. Jakub Łukowski), Grzegorz Tomasiewicz, Robert Bartczak – Oskar Zawada (79. Adam Buksa)
Finland: Miikka Mujunen – Topi Pasi, Akseli Kalermo, Alex Lehtinen, Roni Peiponen (88. Ilmari Ylonen) – Tuomas Lahdesmaki (65. Iiro Jarvinen), Anselmi Nurmela, Richard Jensen, Saku Savolainen, Santeri Kumpula (65. Topias Tiainen) – Elias Ahde (78. Karim Jouini)
Yellow card: Sochań
Referee: Paweł Malec.
Let's relive the match! Video recap available below.