News
Gallery: Poland – Norway in Syrenka Cup
28 / 08 / 14 Author: PZPN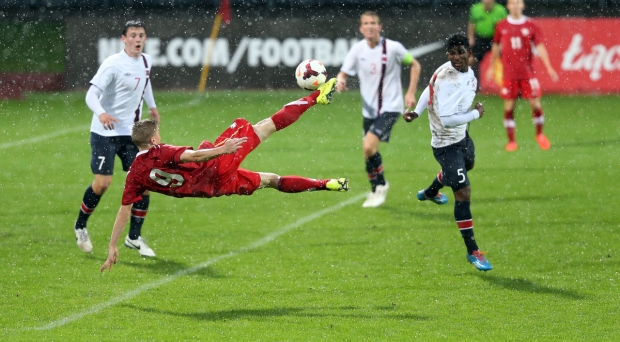 Polish under 17 national team beat Norway 3:0 in the second match of XXIX edition of Syrenka Cup. HERE you can find pictures from the game.
---
Poland – Norway 3:0 (2:0)
Goals: Mathias Laudal 12 (s), Przemysław Mystkowski 29, Marcin Listkowski 72.
Poland: Bartłomiej Żynel – Jan Andrzejewski, Ernest Dzięcioł, Mateusz Hołownia, Adam Chrzanowski – Kamil Jóźwiak (59, Kamil Wojtkowski), Dominik Prusaczyk, Hubert Adamczyk (63, Mateusz Ostaszewski), Paweł Kaczmarczyk (71, Olaf Martynek), Krystian Bielik – Przemysław Mystkowski (59, Marcin Listkowski).
Norway: Marius Halvorsen – Mathusan Sandrakumar, Joakim Barstad, Mathias Laudal (41, Henrik Carlyle), Jesper Espung – Markus Stensby (41, Eivind Fallås Dahl), Mads Sande, Behrouz Habib, Andreas Klausen Helmersen (41, Abdul-Basit Agouda), Emil Hansson (69, Henrik Bredli) – Magnus R. Grødem.
Yellow cards: Jóźwiak, Bielik.
Referee: Rafał Sawicki (Poland).