News
Another step forward!
24 / 04 / 14 Author: PZPN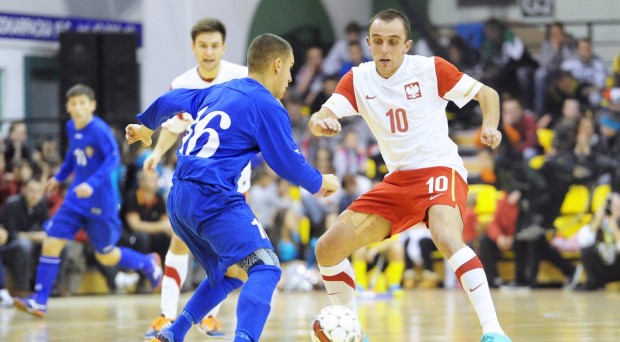 For the first time ever, the Poland national futsal team defeated Romania, which is ranked higher in the table. Just like yesterday, there was no shortage of emotions. Eventually, the white and red team won 5:4.
---
There were more analogies to yesterday's match, which ended up in 3:3 tie. The second time the stands were filled (thousand spectators in Chełm) and also the second time the Romanians were 2:0 in the lead. Before the half-time, Daniel Krawczyk scored the goal for the Poles and reduced the Romanian's lead to 2:1.
The second half of the game was a feat of the Polish team. First, Paweł Budniak and Krawczyk brought about the equaliser 3:3 and then Michał Wojciechowski and Marcin Mikołajewicz took their team to the lead 5:3!
The Romanians did not have the fourth goal in them any more. At the post-match press conference, the manager of the Romanian national team admitted that his team learned a lot during the recent UEFA Futsal Championship in Belgium (in which Romania advanced to the quarter-final), but at the same time he thanked for the lesson he got from the Poles. The victory in the friendly game also has an influence on the UEFA ranking - maybe thanks to victories just like that the Poles will be able to avoid playing in pre-qualifiers to another big event.
Another tests are waiting for the Poles on 9th and 10th May in Krosno, where Andrea Bucciol's players will play against Ukraine.