News
Association
Paulus Arajuuri: Teamwork means strength
26 / 03 / 16 Author: PZPN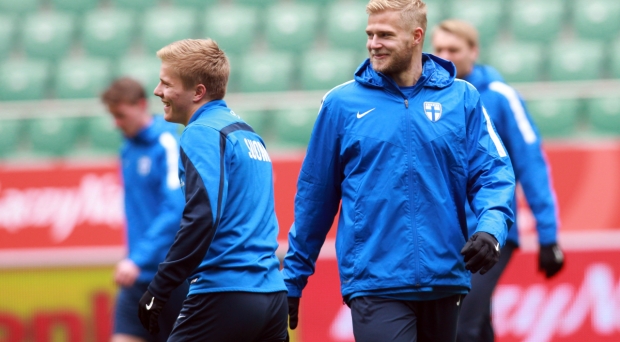 Paulus Arajuuri has been at Lech Poznań for three seasons and he has become a very strong point of the "Kolejorz". Now he has a good chance of playing in Wrocław against the Polish national team. This would be the defender's first match under the leadership of Hans Backe, who took over the Finnish national team at the beginning of 2016. – I am convinced that we will not only be ateam defending against the attacks of our opponent – says Paulus.
---
What approach do you have to the meeting with Poland?
This is a very interesting and important match for us. Poland is a very strong opponent and we need such a test.
You have the right to expect that you will play from the first minute in Wrocław.
I would be very happy. This is very important for me, because it would be my first matchunder the leadership of our new coach.
What is the greatest strength of Finland?
I think we are best when we are simply a team. Our strongest point is teamwork, but we also have true individuals. When we add to thisseveral young players with great prospects for the future, it creates a really interesting team.
In the past, a leading figure in the Finnish national team was Jari Litmanen. Who now can be considered the biggest star?
This would definitely be Roman Eremenko from CSKA Moscow. He is our biggest star. Last season he was chosen as the best player in the Russian league.
What was the reaction in Finland after taking fourth place in EURO 2016 qualifiers?
It was a big disappointment for everyone. We were convinced that we hada chance of qualifying to EURO 2016. We were competing with Northern Ireland, Romania, Hungary, Faroe Islands and Greece. Everyone had great expectations – the team and the fans. But we finished the qualifiers in the fourth place and we feel disappointment.
You are one of the two Finnish players who scored a goal during the match against Northern Ireland, our rival in France, during EURO 2016.
This was a very important moment for me. I scored my first goal in an international match. Northern Ireland played very well in the qualifiers. They are very strong players who have a clearly defined style of play. Every player knows exactly what to do and performs it one hundred percent. They also have a very good striker. It's Kyle Lafferty, who scored quite a lot of goals for the national team.
Do we need to fear this team?
I think that Poland has a very good, strong team and should not be afraid. However, a very difficult match with Northern Ireland is waiting for you and the Poles must perform really well to expect three points.
Finally – what can you say about the new coach of Finland?
We don't know each other very well but he is an experienced coach. Hans Backe is Swedish, and I know that in that country coaches rely on a strong collective, especially in defence. However, I am convinced that we will not only be a team defending against the attacks of our opponents.