News
National Team A
Robert Lewandowski: If our fans are proud of the national team, it will be a success
25 / 05 / 21 Author: PZPN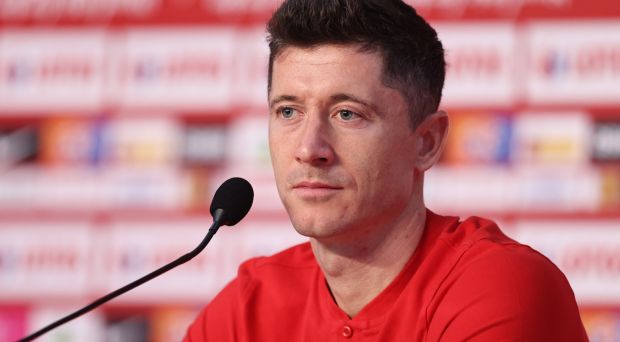 "I still can't get my head around the fact that I broke Gerd Mueller's record. I am certainly happy and proud but it will probably only get through to me over time. But now it is time for the European Championship," said Robert Lewandowski, captain of the Polish national team.
---
Robert Lewandowski on breaking Gerd Mueller's record:
I don't fully realise it yet. Of course I am very proud and happy but I think it will only get through to me with time. This event aroused great emotions in Poland and Germany. It wasn't easy but I broke that record. However, I must admit that I thought it was impossible to do... In the meantime, I was having trouble with an injury, the timing of which was pretty bad. Two-three weeks can change a lot in football, negatively or positively. I knew it could be tough but that four at the beginning of my goal-scoring record looks great. I surprise myself year after year and I'm proud of it.
... about the match against Augsburg in which the record was set:
There were moments in this match where I started laughing to myself, asking myself if this record could be broken or if it was doomed. I had so many goal-scoring opportunities, with my left foot, with my right foot, with my head... In football, it is impossible to plan everything out but that's beautiful. There was some doubt for fifteen or twenty minutes of the second half, but in the last ten, this feeling came back to me that I had to be prepared, that there was still something to come. If someone wrote a book and wrote that I would do it this way, you could say it was just Hollywood and fiction. But these last few matches, the circumstances... I myself would have preferred to score faster but my patience and faith meant that I eventually managed to break that half-century record.
...on his relationship with Rafal Gikiewicz after the match against Augsburg:
After the match, Rafał and I laughed about how it played out and that after the first half "Giki" should get a new contract at the club. I was very focused on the game, only after the final whistle, we had a chance to talk about how I shot, how he defended... Only then, I could truly have a laugh. Sometimes I saw that I had one or two defenders and I wondered if they wanted to lose 0:8 just to not let me play... I also laughed about it to myself how easy it was for other players to get goal-scoring opportunities and how much Augsburg defenders focus on stopping me.
...on how tiring the final weeks of the season were:
If you look at the last five weeks, when I played four matches and had previously been treating an injury, I have not played as many matches as in the years before. There were a lot of matches overall in the season, I may have to look at my training more individually to be prepared for the European Championship. Emotionally, the last few weeks have been exhausting, although there have actually been fewer matches. There's no definite answer as to whether I'll be rested, as it depends on a lot of factors, whether that freshness will give me anything, whether we will be prepared as a team.
...on whether he feels fulfilled in the Polish national team:
When coming to a national team training camp, you dream about good results, about the team understanding each other, being proud of the team and enjoying the victories. I am fulfilled to some degree but that doesn't make me weaker because each success drives me to achieve the next one. I am not a person who inwardly feels that they don't need to keep trying. I've always been like that and that lack of a sense of accomplishment makes me stronger.
...on what will be a success for the national team:
We have to be well prepared, training will help us a lot because in March there was not much time to train. The teamwork and pace of play will be better at the Euro. We have to play hard and believe that we will be successful. But what does it mean? Certainly the promotion to the knock-out stage is a start, but looking back at the previous championship in France, I know that one situation can change the picture, give you the confidence that you can pursue the highest goals. The first match will be important because it gives the team a sense of self-worth, allows it to spread its wings and relieve that stress a little bit. I'm curious myself, I'd like to know the answer to that question, but for me success would also mean that our fans would be proud of how much we achieved, who we played against and how we played.
...on whether he thinks anyone's missing on the team called up for the championship:
It is up to the coach to decide who to call up. He knows the players, how much and how they play, whether they will be able to implement his tactics. My personal, emotional approach is one thing, but we, the players, have no say in the matter. There are players who have been on the team for many years and they are gone now, even though there was a close bond with them. We are human, we have emotions and sometimes we would like to make such decisions but that is the role of the head coach.
...on whether he would like to finally be the top scorer of an international tournament:
Surely, scoring goals at big tournaments would be beautiful but it's the team that comes first. My personal dreams are one thing, but the best interest of the national team comes first. Individual success is an add-on; it was the same in France. I knew my opponents would mark me more and I'm sure it will be the same now. But it's an opportunity for other players. You can see it almost immediately on the pitch and we have to be ready for it, take advantage of those opportunities. I see a lot of potential in this team.
...on tactical preparation for Euro 2020:
The tactics will help us a lot and that's all the coach will want to communicate to us. But if your body is less prepared, it does not understand the tactics that well. If we are physically prepared, we react faster, think faster as football players. The most important thing is to feel strong on the day the tournament starts because then your confidence in your own abilities grows, as does your confidence in the direction taken. Tactics should be balanced. We cannot play either-or, just offence or just defence. When we play well defensively and create goal-scoring opportunities for ourselves, we feel better as a team. We have to be able to do both to be ready for the upcoming opportunities rather than wait for one in a match. Everything has to work as an organism. We need to know when to defend ourselves and when to attack.
...on the atmosphere of preparations in isolation from the fans:
The support of the fans is always helpful, great, extra motivating, but a little peace of mind never hurts. We have not shut ourselves away from the fans, we've been playing for over a year without them in the stands and we've had to adapt to that. Now we're back to playing with the fans and it's going to be exciting but new again. Contact with the fans makes us feel the atmosphere, it creates the sense that we're approaching something great.