News
National Team A
Adam Buksa – a universal soldier
14 / 11 / 18 Author: PZPN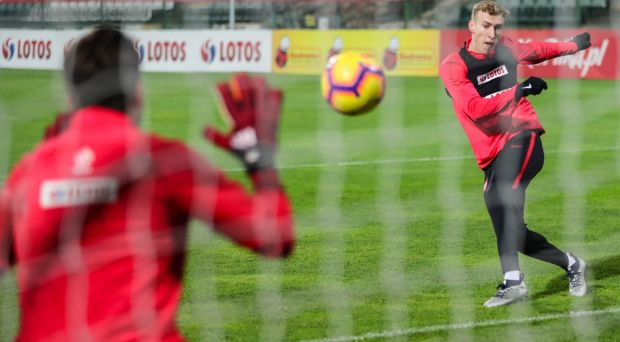 It is rare for strikers to score such goals at all, let alone twice in one match. And yet, during a game against Arka Gdynia, Adam Buksa stunned most observers. The Pogoń Szczecin striker did it first by taking an intelligent, technical shot from a distance along the ground, and then with a decisive shot at the goal. On Monday, he could find his name on the list of players called up for the matches of the Poland national team against the Czech Republic and Portugal – for the first time in his career.
---
Strength and courage alone are not enough to score such goals: the player must evaluate the goalkeeper's position in a fraction of a second, see the chance and adjust the whole body for the strike on the run. This is exactly what Buksa did against Arka, with the first goal being the effect of winning a position and entering a free zone, and the second – a shot taken under the pressure from the opponent, yet so perfect.
Fans of Pogoń Szczecin could have gotten used to this sight in recent months, as Adam Buksa scored 10 goals in 18 matches since the beginning of April. He has already scored six goals this season, and when he scores, the "Dockers" win. The efficiency of this 22-year-old is high – after all, one in three shots ends up in the net. This is a better average than Flavio Paixao's, Marcin Robak's, Zdeněk Ondrášek's or Ricardinho's.
In Gdynia, Buksa was the top third Pogoń player in terms of distance ran. A striker who chases lost balls and is the first one on the team to start pressing. This is why he fits the style imposed by Kosta Runjaić so well. Aggressive and concrete, based on good physical condition and tenacity. That is what Buksa is like. "I wanted to remind the fans of myself, play a good match and win. Plan completed," he said after Pogoń's victory back in September, when Pogoń was still trailing, against the then-dominant Wisła Kraków, following his two decisive goals.
Buksa knows how to take advantage of his opportunities – or maybe he is just discovering his full potential. After all, truth be told, he was not as successful in the past. He was often positioned on the sides due to being well-trained in terms of running and left-footed – his latest goals emphasise his ability to play technically – but he was also often temperamental and thus he changed clubs. He spent a year in Italy, two years in Gdańsk only brought him only sixteen league performances, in Lubin he played more (30 performances), but rarely scored and quickly needed substituting. Or maybe just trust. It is, after all, the first time in his career that he came out onto the pitch as part of the starting eleven in five consecutive league matches, without any brakes.
He is gaining trust. Especially since also in Pogoń he had to wait for his chance, overcome health problems and beat his rivals to the place in offense. He returned to the team at the perfect time, when Pogoń needed points again – just like in spring, when it was struggling to not get relegated. However, this time they got back in the saddle after the crisis much faster and so they can have bigger ambitions.
The same goes for the ambitions of the member of the U-21 national teams and the potential – we'll see in the following weeks – debutant in the first squad of the national team led by Jerzy Brzęczek. Who would have thought that Buksa would get such a chance when only a year ago he was merely a reserve player for Zagłębie Lubin. Evidently, every coach needs a player who puts the team before their own achievements, even if it is not always reflected in individual statistics.
This is also emphasised by Marcin Dorna, the head coach of youth national teams, who also called Buksa up to his squads. "He is a professional, ambitious player who is very eager to work. He is always invested in every minute of training. He is also an example that it is worth to work because it guarantees development," he explains.
And he reminds us that sometimes Buksa's work on the pitch had to be directed. "He always did a lot on the pitch, so sometimes during analyses and conversations we explained that he should focus more on the tasks for his position. However, we emphasised his value for the team, in technical and tactical terms and in terms of protection he provides for his teammates," adds Dorna.
It was a great month not only for Adam, but also for his brother Aleksander, who has recently scored his first goals for the Poland national under-16 football team (born 2003) led by... Marcin Dorna. "He is a similar type of player and person to his brother. It should be remembered that Adam has also experienced many unpleasant events such as injuries and difficult moments in clubs. But he never gave up and that is why he is where he is now," he ends.
Michał Zachodny