News
National Team A
Hubert Matynia: Reward for fighting and patience
12 / 11 / 18 Author: PZPN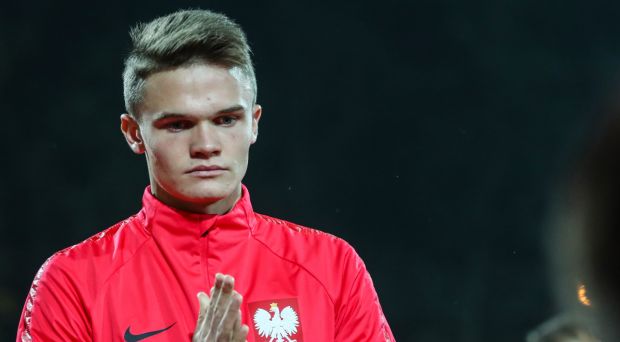 Life more than paid Hubert Matynia off for what it took during the long battle with himself and an injury. The Pogoń Szczecin defender was invited to the training camp by head coach Jerzy Brzęczek. His good performance in the league was appreciated. Now the 23-year-old player will have a chance to make his debut in the first national team.
---
These recent thrills could give one a headache.
Indeed, a lot has been happening recently, there were constant calls from people who wanted to talk about the call-up. However, the sudden increased interest in me is not surprising, given that I was called up to the senior Poland national team for the first time. This is a unique and extraordinary situation that not everyone has the opportunity to experience.
In what circumstances did you find out about the call-up?
I was just eating lunch with my girlfriend. I look at my phone and I see an unknown number. All I heard was: "This is Jerzy Brzęczek. Hubert, I would like to invite you to the next training camp of the team before the matches against the Czech Republic and Portugal." I was pleasantly surprised, even more so since it is not every day that you get a phone call from the head coach.
How did you win Jerzy Brzęczek over?
In my opinion, one of the reasons is the fact that Arkadiusz Reca and Maciej Rybus are injured and the coach had to look for natural successors. It turned out that this new solution would be me. I feel very good about it. I think that I might have won the coach over by regular appearances for the club during the recent rounds. I played whole matches and Pogoń looks good as a team, which affects the positive reception of individual players.
Hence the chance also for Adam Buksa. Two Pogoń players will join the next training camp of the national team.
I am doubly happy to be able to go to the training with my clubmate. It is a great honour for us, especially for Pogoń. We were appreciated for the way we present ourselves as a team in Ekstraklasa. We look better and better in each match. My play is also improving, I got into the rhythm of the matches. Thanks to this, I can now experience moments like the one with the call-up. This is the most beautiful thing in a footballer's career!
At the beginning of the season, you did not play as regularly. Why?
This was due to the fact that Ricardo Nunes, with whom I compete for a place in the line-up, was in good shape. However, he then suffered an injury, got kicked out of the line-up for a few matches, and I took his place. Just as I got my chance in the national team thanks to the injuries of Reca and Rybus, now the injury of Nunes helped me in the club. I am glad that my performance was positively assessed by the staff of the national team, that someone noticed that I could help the team somehow. Playing for the national team is a great honour for me.
"I took advantage of my friends' injuries." Don't you think that, given your recent health issues, it sounds like a paradox?
This is largely true. Fortunately, I haven't had any injuries for over a year now. I am training all the time, I haven't missed a single session. My health problems started with the match against Górnik Zabrze and the clash with Rafał Kurzawa. It happened exactly on 17 May 2015. I suffered a serious injury and I haven't played another match in Ekstraklasa until... 3 December 2016. It took me a long time to get back into my form from before the injury, when at the age of 19 I had already played 23 matches in Ekstraklasa. My return to the pitch kept getting postponed; I was even told that I might not be able to play for the next three years. I was fed up with the hospital, I wanted to have fun with my friends from the pitch again. I had to be patient as I was gradually recovering during rehabilitation. Unfortunately, the youth European Championship held last year in Poland, in which I really wanted to participate, has slipped through my fingers. Thinking about this event helped me to get back on track. During the treatment, coach Marcin Dorna was keeping in touch with me. He showed me great support at that time. It's nice that he didn't forget about me. I know how much it means for an injured player to receive just one phone call, a word of comfort. It gives you strength, restores hope. I was on the reserve list for the U-21 EURO. I was supposed to be ready in case something unexpected happened. I was waiting for a phone call until the very end, but I was left empty-handed.
However, every cloud has a silver lining.
I was hoping to play for the U21 team, but now I am a member of the first national team. I am glad that my hard work and everyday pursuit of my goal of being the primary left defender in Pogoń have paid off. Hard work pays off. To me, the place where I am now is a reward for the long fight against an injury.
Do you think that the injury has hindered your development?
Definitely. My whole world fell apart in an instant. However, I did not give up. I knew that I was facing a battle to get back into the form from before the unlucky match against Górnik. I knew that one day it would pay off.
What is your goal for the first training camp in the national team?
I want to give it my all, that is the most important thing. I will fight with all my strength during the training. I want to get better and better, show what I can do.
Interviewed by Piotr Wiśniewski